Over the weekend, the Chinese government issued its second "red alert" for smog in the northern part of China, which includes the capital city, Beijing. The National Meteorological Center predicted that visibility in the worst affected areas such as Beijing would fall to less than 1 km (0.6 miles), and that the pollution index would likely exceed 500 in the capital city and parts of Hebei province, which surrounds Beijing.
The second red alert comes a little more than a week after Beijing issued its first ever red alert for unforeseen levels of smog as a result of severe and persistent air pollution. The latest state of 'air-ffairs' in China has generated mounting concerns among citizens and increased discussion among government officials about how to reduce the toxic levels of PM2.5 (P M two point five). PM2.5 is a type of air pollution consisting of particulate matter smaller than 2.5 micrometers (100 times thinner than a human hair). This invisible particle, made up of heavy metals and cancer causing organic compounds, and which poses significant health hazards, has resulted in the widespread use of face masks by Chinese citizens and foreigners living in the most afflicted cities.
A red alert is issued after three days of consecutive forecasting that lead government officials to believe that the air quality will exceed a level of 200 on the air quality index. The U.S. government declares a level of more than 200 "very unhealthy." Beijing's first red alert was triggered as levels approached 300. City officials advised residents to stay indoors, schools to stop classes, and banned outdoor construction.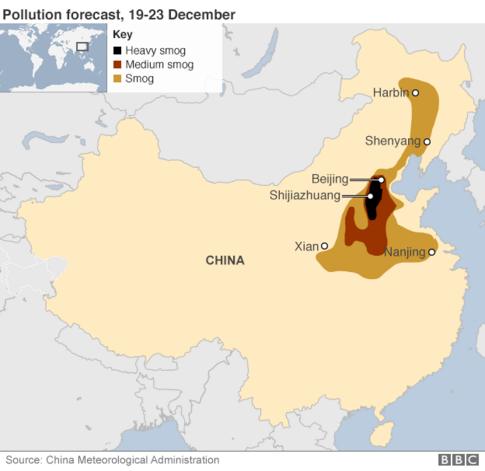 Beijing and nearby cities have experienced prolonged periods of smog this month, but air pollution has been an issue and a challenge for China for some time. Following decades of unbridled economic growth, China now seems to have run into a wall. The red alerts in Beijing have forced the government to interrupt daily activities and lifestyles and put key economic and development activities on hold, with no guarantee of a return to normalcy any time soon. While the Chinese government has vowed to crack down on air, as well as water and soil pollution, no pollution emergency response plan has been announced. What is clear, however, is that the government's short-term strategies to reduce smog are compromising economic development and growth, key priorities for the Chinese leadership.
While Beijing's smog-besieged days have deterred many city residents from outdoor activity, one resident, a performance artist who goes by the name "Brother Nut," has captured the attention of city residents. For 100 days, Brother Nut walked around Beijing sucking up dust from the atmosphere with his industrial-strength vacuum cleaner. His goal? To make a public statement about the capital city's heavy smog. How? By mixing the dust he collected after 100 days with clay and turning it into a brick.
Source: The New York Times
"I'm not doing any scientific research," said Brother Nut.
"Dust represents the side effects of humankind's development, including smog and building-site dust. When I first arrived in Beijing, I wore a hygienic mask for a few days, but later I stopped. In smog like this, there's no escaping."
Earlier this month, 200 countries at the COP21 climate meetings in Paris adopted an agreement to limit the world´s rise in average temperature to "well below 2 degrees Celsius above preindustrial levels" and pursue efforts to contain the temperature increase to 1.5 degrees Celsius.
Can this historic agreement and reenergized commitment to slowing down climate change help China escape from its smog epidemic? It could. But it also depends on China´s ability to reconcile some of its long-term economic ambitions and interests with the grim and hazardous reality unfolding at home.